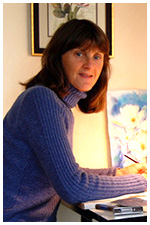 Sandra Maurer — Artist Friend for March
Sandra Maurer, a resident of Murphys, California, is primarily a self-taught watercolorist. She paints exclusively in watercolor and strives to capture the spirit and essence of her subjects through the play of light and shadow. Sandra has studied life science extensively and enjoys painting and capturing the beauty of both plants and animals in their natural setting. "Transparent watercolor reflects not only the play of light and shadow, but also my passion for the natural world."
Sandra has studied under local artists Carol MacPherson as well as Jane Hofstetter, Dale Laitinen and Jill Figler. She has won local awards and served as a board member for the Arts of Bear Valley.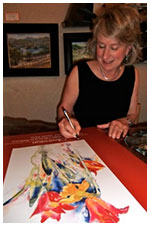 Susan King — Artist Friend for February
Deborah Marlene's will be hosting a Reception for Susan King as her Artist Friend for February. Susan King is a retired teacher from Hazel Fischer School in Arnold. She has been a resident of the Murphy and Arnold Area for the past 30 years. Susan is a member of the Arts of Bear Valley and shows at their venues. She also exhibits at Art on Main and the Magnolia Cafe in Murphys. She uses a variety of mediums and techniques which she feels creates a unique emotion connection within her work. The Reception will be held on Sunday, February 23rd from 1PM to 4PM, at Deborah Marlene's, 8242 Main Street in Historic Mokelumne Hill. Enjoy some refreshments and appetizers as you watch a live demo of Susan's artistic tallent.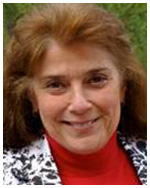 Janet Alcalde — Artist Friend for January
After a semester of photography in college, I became smitten with the absolute magic of that latent image emerging on the paper in its chemical bath. Amazing! I've been dabbling in photography ever since. With the encouragement of friends and the skills acquired through Columbia Community College classes in the '80s, I've participated in a variety of local and regional shows. I've been slow to transition to the digital darkroom
(I sure miss that magic!). I love to travel, especially in the southwest, and many of my images are from my road trips. Since my retirement from education, I've begun to dabble in watercolor, playing with prints, pixels, and pigments.